My brother started getting nervous when our bus from Valparaiso to Santiago was late. Our scheduled bus just left 10-15 people stranded. It came and just left. We had to rebook our tickets for the next bus, which was 20 minutes later. I told Scott, "We are in Chile."
I sat next to a Colombian PhD student in engineering. He told me about his research in changing molecules into hyperactive, transitional states called critical fluids. He was surprised that I understood. I told him I used to be a scientist in another life.
When we arrived to the airport, a guy on the airport bus kept starting at me with scorn. He looked familiar. Then when we exited the bus he told me, "Hola."
Oh, it was the Diva. What are the odds I would see him again? It was four days after I bumped into him at LAX, and now I see him again in Chile. I told Scott. Scott said, I should've said to him, "Did you have a good flight?" I wish I said it.
We boarded to the Southern Capital, Punta Arenas. It was a 3 hour flight to the end of the world. Because of infrequent flights and monopolies, I used up all of my miles on an account to book the flight. In short, it's expensive to get into the end of the world.
When we arrived to the Southern Capital, it was midnight. The sun was still out. It's summer in Patagonia, but it was still freezing.
My brother and I were expecting a tropical vacation, and we hit blasts of Antarctic winds. The winds smashed through our clothes and into our bones, chilling them. We didn't have winter clothes. We were two hours away from Antarctica. We were so unprepared for this trip. We were freezing.
Punta Arenas was a seaside port city that my brother said looked like one of those nightmare settings in Maine that Stephen King always uses. It had a European feel, but it definitely felt like an East Coast fishing village.
The seafood was fresh and cheap in Punta Arenas. We ate a lot of fresh king crab. Scott had a lot of deep fried eel. The food was really good and fresh and cheap.
For breakfast, while Scott was sleeping, I ate the baked king crab in cheese and cream over bread. I ate most of the leftover king crab. I left Scott a few spoonfuls.
When he woke, he went for the king crab. He was mad, like an angry bread, to see I ate most of it. He poured the seafood soup over our leftover french fries and meat. He then said, "You make me eat like a beggar. You ate all the king crab!"
After, we went to see penguins. Scott kept commenting how he wanted to eat one of them. I said to him, "If you pee on one of them, it gives you good luck."
He believed me and asked, "Who told you that?"
I smiled.
He said, "Did you just make that up?"
I started laughing.
I told him that penguins have so much fat, if you chop off their heads and put a wicker in it, it makes a candle. This is true my marine bio professor taught me that. He said they're a good source of fuel in Antartica.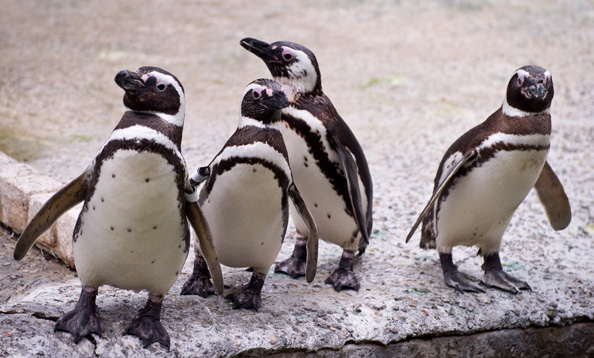 The Megallan Penguins were cute. We paid $25 to take a drive to see them. It kind of felt like going to a zoo, except it wasn't completely a zoo, but it wasn't like really seeing them in the wild. There were so many tourists.
When Scott saw them, he said he wanted to eat them again. I said, "They probably wouldn't taste good because they have too much fat."
So, he came up with the idea of frying vegetables in their fat. I said, "Well - now that might taste good. Lard always makes veges taste better."
We went to second hand store when we came back into town. For $25 bucks, we got hiking shoes and weather proof jackets. We were going to need them.
We caught our bus to the next town over. We were going to see the Torres del Paine (the Towers of Paine) soon. We were seeing what was at the end of the world.